KINDNESS PERSEVERANCE SUCCESS


School uniform should be worn by all pupils on every day that they are in school. At Kingsway Primary School, we have chosen a smart navy uniform with a school tie. The school tie is elasticated for our reception pupils so it is very easy to put on.
The school logo is as follows:

It was chosen to symbolise the upward drive for success that we wish for every child and it also subtly mirrors the RAF history of the school site using the red, white and blue and the 'Red Arrows' style of loops. In our eyes, every child is a 'Star' and we aim to help them 'Reach for the Stars' in all our policies, actions and plans for the future.
Day-to-day Uniform
Navy blue school logo v neck sweatshirt or school logo cardigan (only logo ones please)

White logo polo shirt, non-logo white polo shirt or white school shirt/blouse - School tie

Black trousers, skirt or pinafore - Black or navy blue Velcro fastening shoes (no trainers)

A pair of wellies (to be kept in school)
Summer uniform
As above or blue check gingham dress or black shorts or skorts
PE Kit
Navy blue logo PE shirt - Royal blue shorts

Daps or trainers according to season and activity
Other
School Book Bag (essential for all pupils)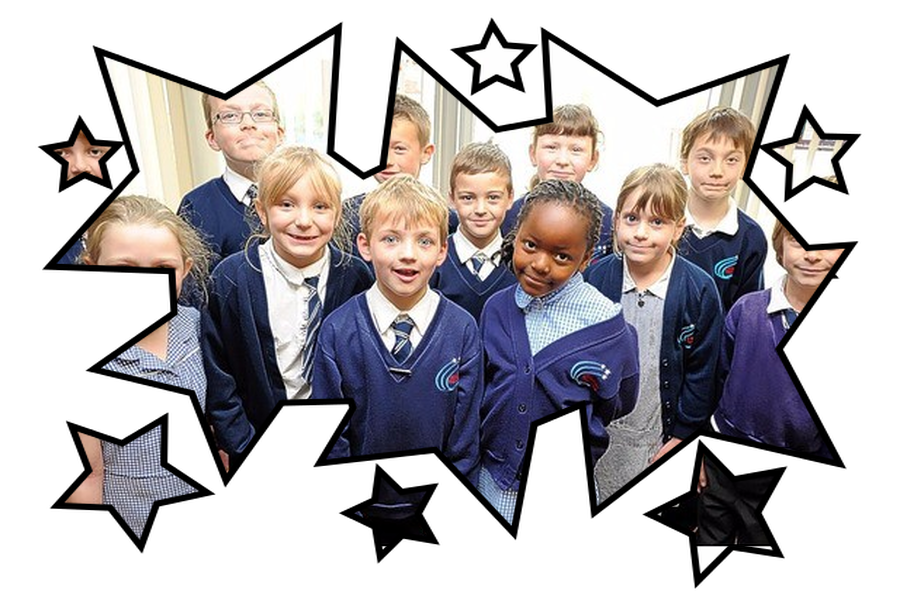 We do not sell uniform direct in school. Uniform can be purchased from the following places:
TESCO SCHOOL UNIFORM

We have joined a new service called UniformEasy who are in association with Tesco, which we hope will make buying school uniform hassle-free. All items are purchased online at http://tesco.com/direct/ues where you receive high quality uniforms with free delivery to your door and clubcard points. Also the school will get a 5% cash donation on every purchase you make. Please have a look at ordering school uniform through Tesco as you can get great new uniforms, help raise funds for the school and you can also receive £5 off your first order over £25 by entering the eCoupon code of UES2014 at the online checkout.

TRUTEX SCHOOL UNIFORM SHOP

Located at 99 Northgate Street, Gloucester, Trutex host a variety of school uniforms and a typical Kingsway Primary School uniform will cost about £50 in total.